Hello everyone! I am a mathematics teacher, I teach students between the ages of 12-18 years. My usual class size ranges between 30-40 students. I am passionate about teaching mathematics, I enjoy coming up with new ideas and methods to impart the information my students need for success in math. My greatest joy is when my students get good marks on their tests and exams, especially when they have improved. ''Italic text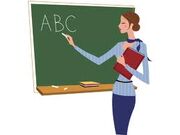 Learn circumference, radius, pi and more through music! From the Math Upgrade course at learningupgrade.com INTRODUCTION A plane shape is a two dimensional shape, it has width and breadth but no thickness. TYPES OF PLANE SHAPES 1)Triangles 2)Quadrilaterals 3)Polygons
i. Regular
ii. Irregular


THE CIRCLE Parts of a Circle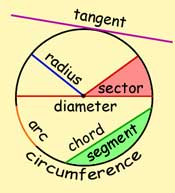 Centre Arc Radius Chord Diameter
THE AREA OF A CIRCLE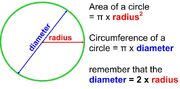 HOW TO DERIVE THE AREA OF CIRCLE FORMULA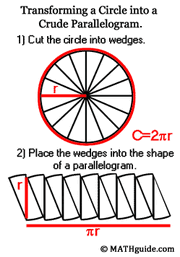 The formula for the area of a Parallelogram is BASE x HEIGHT(see diagram 3) step 1) Cut up the circle in sectors step 2) Arrange them in the shape of a parallelogram, the base is the circumference of the circle = II x r and the height is radius = r step 3) Calculate the area of the parallelogram (base x height) and that formula is the Area of a circle.
step 4) Area of a Circle = pi x r x r (see, diagram 4)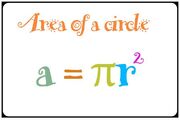 For added information watch the video (in videos on this page) entitled Finding radius, diameter, circumference and area of a circle.
Community content is available under
CC-BY-SA
unless otherwise noted.