Line 94:
Line 94:
 
 
 

Seriously. This is painful to look at. There's a reason people make fun of light-mode users.

 

Seriously. This is painful to look at. There's a reason people make fun of light-mode users.

 
+
 
+

== What an eyesore. ==

 
+
 
+

Fucking bright yellow and neon pink globally. Get your heads out of your asses and actually look at how disgusting you've made this website. The website was completely fine already. Atleast the fucking Discord and Pringles rebrands look visually appealing, while this one just burns my retinas. [[User:CaptainGame17|CaptainGame17]] ([[User talk:CaptainGame17|talk]]) 17:24, 3 August 2021 (UTC)
---
Revision as of 21:10, 3 August 2021
About how stupid this is
Sure, this will unite fans. Unite fans to want to change the logo back, as it's so ugly.
You change in Halloween
Change all blue
this futur is terrible
We try to make nice wiki, and we will have this thing purple with yellow text on the side ?
https://i.imgur.com/8ujFQAT.png
https://i.imgur.com/YkSsXPU.png
You think that this is fine ?
--GKPlight (talk) 14:51, 3 August 2021 (UTC)
"For the love of the fans"
We hate Fandomdesktop, is it not clear enough? People have quit because of your useless updates. If you cared for the fans you would listen to what they have to say, which is DONT REMOVE OASIS.I'm devastated, Oasis was a simple design that was quite good. There was no need for change yet you did it. Hope you change it. Btw the yellow bar sucks.
The Culmination of Poor Decision Making
"Most fans who come to the wikis land on a page that they found on a search engine results page, find the information they were looking for, and then leave without ever knowing they were on Fandom and all the great content that your wiki has to offer."
Yeah.
That's what a wiki is for.
If you care more about your branding than the functionality of your wikis, why have wikis at all? Sell them off to someone who actually wants to host a website for wikis instead of constantly sacrificing more and more functionality for the sake of trying to get people to read your articles.
Is this just me,,..
...or does the new logo remind me of the Miraheze logo? (Probably because they're both geometrical two-colour representations of something from nature: respectively, a fire and a sunflower.) KMFStudios (talk) 15:15, 3 August 2021 (UTC)
Hey guys!
hey! I got idea! get wikia help!
"For the love of fans"
If there is love, why don't listen to fans? They don't want Fandomdesktop to be the only theme on this website. P.S. The logo is not that bad, but using mustard yellow as a header isn't a good idea. Itogi (talk) 16:35, 3 August 2021 (UTC)
Fandom is ruining its design.
So first we has this AWFUL new design: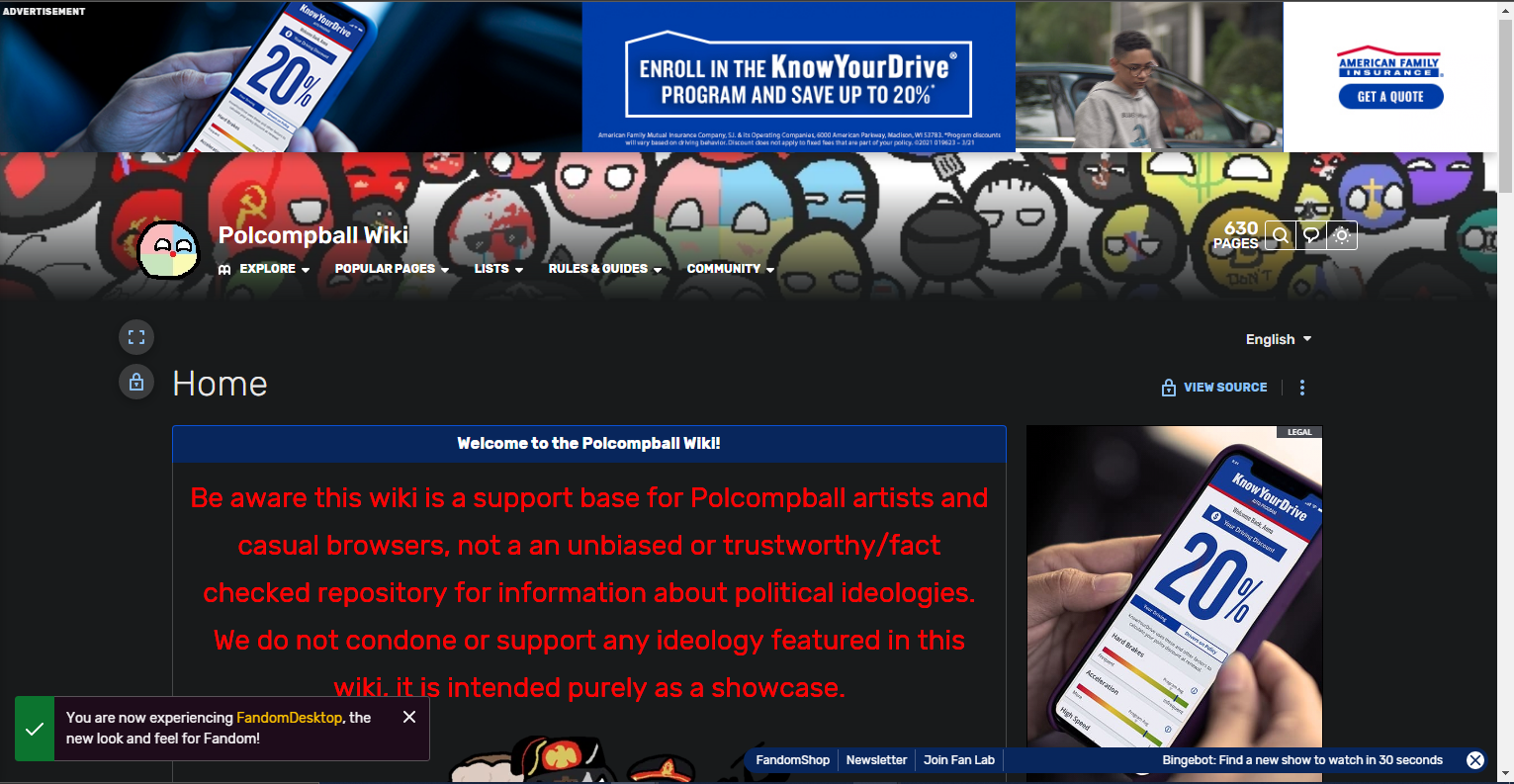 At least it wasn't forced as soon as it came out, but now THIS which is forced right as it came out:

This does not blend well with dark mode wikis. If you need evidence: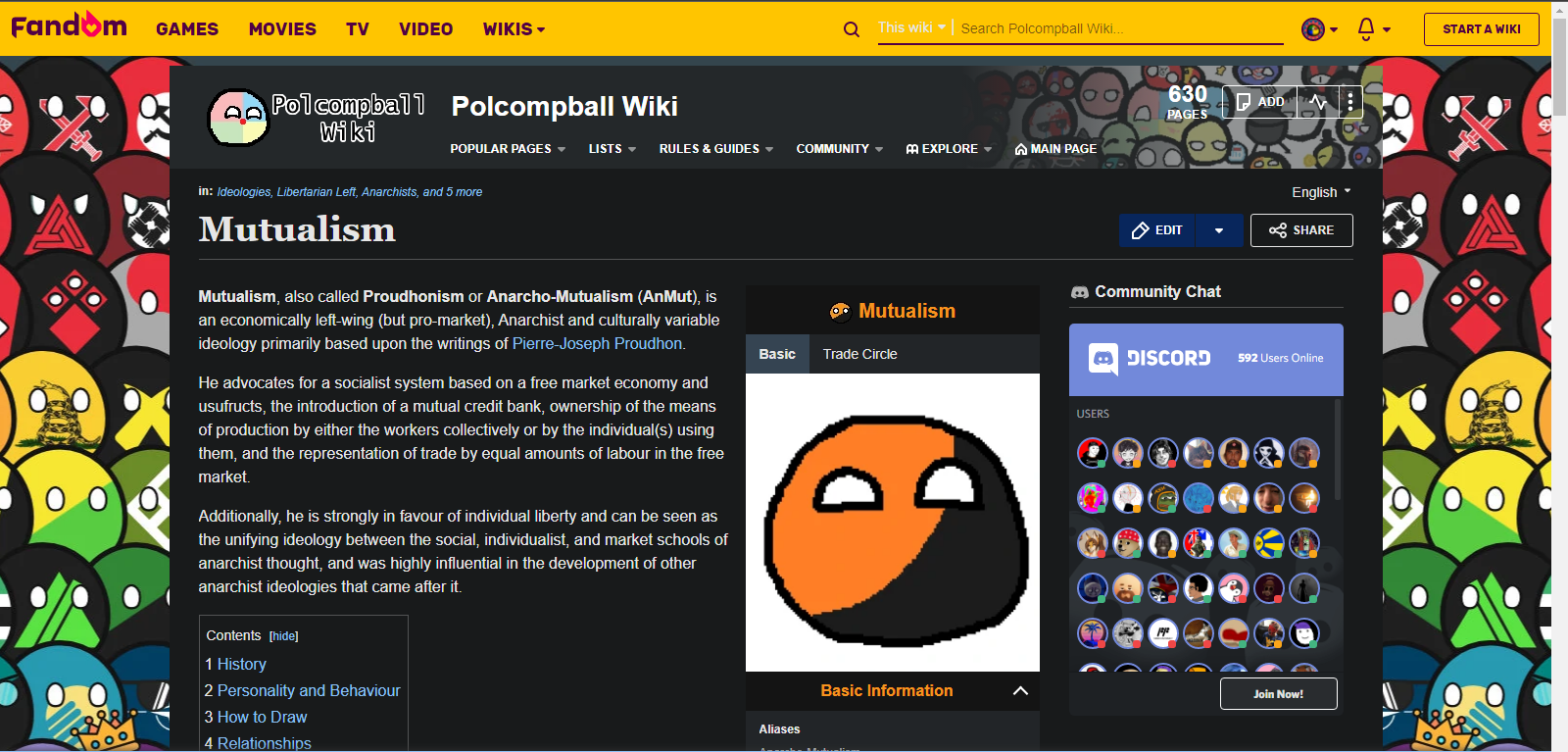 I'm okay with you rebranding, but please don't force changes without the users' approval. Alesjif (talk) 17:00, 3 August 2021 (UTC)
Preach! I use Opera GX with Darkmode, it just makes the yellow even more obvious, it's annoying. Robloxianredditor (talk) 17:23, 3 August 2021 (UTC)
Yeah, it's only vaguely distracting for logged-in FandomDesktop users (I don't have a problem too awful much with FandomDesktop overall), but for people still on Oasis (and logged-out FD users!) the garishness of the global nav distracts from the actual content. I kid you not, I screamed for a minute and a half straight "WHY DOES IT LOOK LIKE THAT, WHAT'S WRONG WITH YOU", which is out of character for me even for the things staff has done in the past that I've strongly disliked or found accessibility issue with (see: I REALLY had trouble with the removal of Monobook but even for that I did not literally scream out loud about it. - Citrusellaeditswikis (talk) 18:21, 3 August 2021 (UTC)
So is it me...
Or will I be the only one staying in Fandom and getting used to Fandom Desktop while everyone else leaves Fandom just because they hate the new design? SafariKid2 (talk) 18:03, 3 August 2021 (UTC)
You're not the only one. FandomDesktop is actually an improvement for me, as it allows quicker access to wiki tools for the more experienced users. KMFStudios (talk) 18:12, 3 August 2021 (UTC)
Did anyone ask for this?
I've been on Fandom for nearly 10 years now, with my original account dating back to 2011 or so. I've seen the site transition from Monaco to Oasis, ditching Monobook and forums, and developing Oasis 2.0 and I can safely say this is the worst revision of the skin for this site. All these dumb and restrictive changes have actively moved so many communities over to Miraheze or their own independent servers instead, and will cause more to do so in the future. So I sincerely ask, as a long-time editor, please don't force these changes that clearly no one is happy with.--Amelia: The Dork of Steel (T/C) 18:26, 3 August 2021 (UTC)
like good ol' bootlicker tupka217 would say: "you'll get used to it" and when fandom (or who knows how it will be called 10 years from now) changes its skin again, you will miss fandomdesktop. Me 19:10, 3 August 2021 (UTC)
A Welcome Change
Wow, sorry to see all of the negativity and hate towards the new logo and branding. Sadly, fandoms are a two-edged sword, and when you bring all of them together, you often end up with a cesspool of toxicity.
Now, for my take on the updates. I love the FandomDesktop skin. It's 500x better than Oasis, which was very dated at this point. The new Fandom logo will take some getting used to, but I like that it contains a homage to the old one. The new colors of the global nav bar are nice, and it's good to see there are both light and dark versions.
To those whining about supposedly getting less customization and flexibility on the new skin, I challenge you to actually identify 4 or 5 things that you can't customize on FD that you could on Oasis. IMO, Oasis was much more restrictive, especially after the restriction that was put in place over the wiki navigation and header a couple years back.
Anyway, rant over. I'm excited to see what's next for the Fandom community :)
— CaptFredricks [ leave a message • contributions ] 19:05, 3 August 2021 (UTC)
If you're for all users…
Maybe don't cram random ass updates down our throats without asking.

Screw you, Fandom staff, and have a good day.

Don't worry, you can ban me for disagreeing with you.
Canttouchthis5555 (talk) 20:31, 3 August 2021 (UTC)
This hurts my eyes
Seriously. This is painful to look at. There's a reason people make fun of light-mode users.
What an eyesore.
Fucking bright yellow and neon pink globally. Get your heads out of your asses and actually look at how disgusting you've made this website. The website was completely fine already. Atleast the fucking Discord and Pringles rebrands look visually appealing, while this one just burns my retinas. CaptainGame17 (talk) 17:24, 3 August 2021 (UTC)