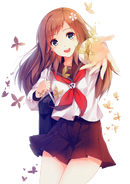 Welcome to my Message Wall on Community Central.
Feel free to leave me a message below if there's anything you need to talk about, or if you need help with anything! Please be polite and avoid strong language, and make sure your messages are not subject to spamming, trolling, harassment, insults or necro-bumping. Thank you! :)
~Summertopia (wall | blog | contribs)

Give Kudos to this message
You've given this message Kudos!
See who gave Kudos to this message
Community content is available under
CC-BY-SA
unless otherwise noted.