Got a question about this topic?
Head on over to the Discussions!
You can use this space to suggest improvements to the help page.
Request semi-protection on this page
[
edit source
]
This page has been vandalized/spammed many times. There is also a counter-productive edit warring on this page. So, I want this page semi-protected.--Amrsatrio → ( t · c · b ) ← 13:08, May 22, 2013 (UTC)
The IP address responsible for today's spam has been banned. No other spam has occurred on this page in recent weeks. As for the edit warring, it seems that was settled. As such, I don't think this needs any protection at the moment.   

ǝsʞpɐןǝ

  (message wall)  13:16, 22 May 2013
There is no Admin Dashboard or Admin anything in the Toolbar: [1]. Alysdexia (talk) 05:22, August 1, 2014 (UTC)
Hi - please let us know more about this issue via Special:Contact. This will get you in contact with the support team, who may be identify the problem.

K

i

r

k

b

u

r

n

  

talk

  

contr

    14:17, August 1, 2014 (UTC)
Hi, I'm using the old editor so the admin dashboard doesn't show up in that bottom toolbar. I want to get to it. How do I? ᵗʰᵉʰºᵗʷʰᵉᵉˡˢᵍᵘʸ₉₉ (ᵗᵃˡᵏ!) (ͨºⁿᵗʳ'ᵇˢ) 13:59, September 21, 2015 (UTC)
The page is at "Special:AdminDashboard". So you could just go to it via the URL. --Tupka217 14:12, September 21, 2015 (UTC)

Ok. Thanks!! ᵗʰᵉʰºᵗʷʰᵉᵉˡˢᵍᵘʸ₉₉ (ᵗᵃˡᵏ!) (ͨºⁿᵗʳ'ᵇˢ) 21:16, September 21, 2015 (UTC)
Require all contributors to log in
[
edit source
]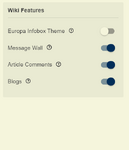 Hi, the "Require all contributors to log in" wiki feature disappeared, as shown in image. Anonymous users can edit pages but they can't comment on articles. Is there a way to allow them commenting? Woods234 06:46, 27 March 2021 (UTC)
Visit Founder & Admin Central
[
edit source
]
The "Go to task" link basically goes nowhere... it is supposed to go to Admin Central:Main Page, but it is now just a redirect to the main page. It should probably go to Special:Forum aka Discussions. -- Fandyllic (talk · contr) 13 Apr 2021 6:52 PM Pacific
Community content is available under
CC-BY-SA
unless otherwise noted.