Video is increasingly becoming a key feature of online media. Videos can help attract readers who are looking for quick information about major topics, as videos help compliment all of the in-depth information on wiki pages. In turn, more readers can lead to more contributors for your wiki.
Featured Videos are featured at the top of many of the high traffic pages on Fandom, and wikis have the option of adding additional videos throughout their pages.
How to add a video to your wiki
To add a video, you can use the top-right menu and choose from the drop-down menu to add a video.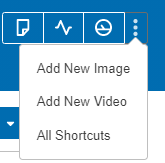 Click on the "Add video" button, which will pop-up a window where you can add the URL of your video. Click on "Add" and the page will soon let you know if the upload worked.
The gallery of new files lets you search media types - check the "videos" box and click 'Search' to only show videos. Your uploaded video should appear below.
Of course, you also can go directly to Special:NewFiles and add the video there.
How to add a video to a page
Source editor
Use the media icon (looks like a picture) in the top navigation bar and click on it.
A window called "media settings" pops-up.
In this window, you can search your wiki for the video you want to add or also upload an image.
Choose your video from the media listed and click on "use this image".
This will open another window, which allows you under the tab "general" to add a caption and alternative text. At the bottom you also can choose to change the image (this brings you back to the first "media settings" pop-up). Under the tab "advanced" you can make additional changes to the video and how it will appear on the page. You can change position (left, center, right), define if you want text wrapped around the image, the image type (thumbnail, frame, frameless, basic) and the image size (default: 180 x 135 px).
Click "Insert".
Preview and save your page.
VisualEditor
Click on the location where you want to add the video.
Use the media icon.
"Media settings" window appears.
Choose your video and click on "use this image".
Make your desired changes to your video like explained above in source editor.
Click on Insert and save.
How to replace or remove a video
In the event you need to replace a video, you will need to upload a new version of it at a different file name. You can do that by repeating the instructions above.
Go to the uploaded video file. You can search for videos on Special:NewFiles ("Gallery of new files") or go to Category:Video, which should contain all the uploaded videos. Open the file, go to "edit" and choose "delete" from the drop-down menu. Choose a reason or "other/additional reason" why you want to remove it (or leave it blank) and click "delete".
Next pages
Further help and feedback
Community content is available under
CC-BY-SA
unless otherwise noted.