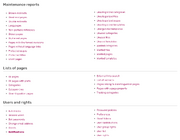 Special pages are useful tools and reports come with our MediaWiki software and help with wiki management. Special pages always begin with the prefix "Special:".
How to Find Special Pages
If you're an admin on the wiki, you can find this in the Admin Dashboard under the "Advanced" Tab.
If you want to create a shortcut to this list, you can add it to your toolbar by clicking "Customize" and adding "Special pages" to your list.
A List of Special Pages
Below is a list of options in Special:SpecialPages, color coded by access levels:
Black - Available to anyone
Green - Available to logged in users
Red - Available to admins and bureaucrats
Orange - Available to bureaucrats only
If a Special Page isn't available to a user, it will generally not display on their view of Special:SpecialPages.
Maintenance reports
List of pages
Users and rights
Recent changes and logs
Media reports and uploads
Wiki data and tools
Redirecting special pages
High use pages
Page tools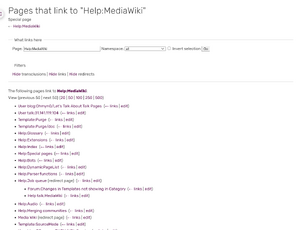 Wikia pages
Login/sign up
Other special pages
Logs
Some extension also add new log types to the wiki (these will only exist if they are enabled at your wiki). Examples:
See also
Further Help & Feedback
Community content is available under
CC-BY-SA
unless otherwise noted.