This page has been modified to be used exclusively as an aid for the new Unified Community Platform and may therefore differ from other wikis.
See this page for more information on the new platform.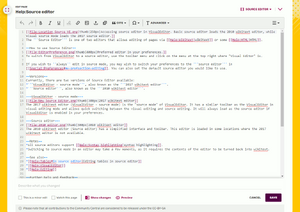 The Source Editor is the main editor for wikis. It serves as an alternative to the Visual Editor, when users need to do more complicated stuff, which are not possible with the Visual Editor.
Versions
Currently, there are 2 versions of Source Editor available:
2017 Wikitext Editor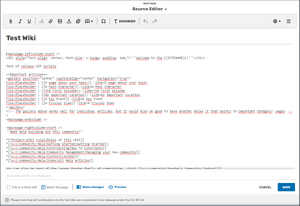 A new editor for wikis. Basicly, this is a Source mode of Visual Editor , which means unified editor, with easy switchibg between Source and Visual editors. It can be activated by using prefered editor "VisualEditor - source mode" in their Preferences. It loads page without reload of page. Also, this editors allows revert of edits to text.
2010 Wikitext Editor
If user wants to keep the older wikitext editor, called 2010 wikitext editor, they should check if their preferred editor is set to "Source Editor" in their Preferences.
2010 wikitext editor will be used on some places (JS and CSS files editor), even when 2017 wikitext editor is set as editor.
Editing Tools
Editor Switcher
There is an option to switch editor in middle of editing, without losing any of your work.
Toolbox
Toolbar contains some basic tools to edit a page. If you wanna know more about it, click here
Editor
In editor area, you are able to edit source of the page.
Edit Options
This area is for additional information (eg. Summary, Minor edit), previewing change and saving article.
Toolbox
Toolbox will be different, based on what version of editor type you are using.
2017 wikitext editor

Formating options

There are 3 formatting options - Bold, Italic and Underline.
Quick tools

These are not-formatting options. They are Signature tool, Link, Media, Mass Upload, Gallery and Cite.
Special Characters

This can be used to insert special characters (for example ä).
Advanced

There are situations, when people need more tools. These tools may be paragraphs, lists, superscripts and subscripts, or even tables. Advanced option has all these features.
Undo and Redo

These allows people to undo, and redo their edits. These are really useful, especially for new comers, who can revert edits, without having to edit again, or save changes, where they messed up some text.

Page options

This is actually brought from Visual Editor. These allows to
Add categories (not working)
Change page settings (not working)
Change advanced settings (not working)
Change Languages (not working)
See templates used
Allow syntax highlighting
View a right-to-left
Find and replace
More options
These are links, which are useful. You have to open these in new cards.
2010 wikitext editor

Main Toolbar
Formatting options
There are 2 formatting options - Bold and Italic
Quick tools
These are not-formatting options. They are Signature tool (only on talk pages), Link, Embedded file, Reference and Select Files (multiupload)
Syntax highlighting
Advanced
Heading
Format
These includes Bulled list, Numbered list, Nowiki formatting and new line.
Additional formatting
These are not really used, but useful html formatting's. They are Big, Small, Superscript and Subscript
Insert
Inserts somewhat finished code into code - Picture gallery, Redirect and Table
Search and replace
Really useful tool, you can search word, and even replace one or all of them.
Special characters
This section can be used to insert special characters (for example ä)
Help
This contains some basic wikitext help, really useful for users, which starts with wikitext.
See also
Further help and feedback
Community content is available under
CC-BY-SA
unless otherwise noted.