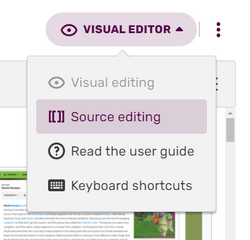 Source edit mode is the editing mode of either the Visual Editor or the classic editor that allows editing of pages via wikitext or some HTML.
In the VisualEditor, it is accessed via the toolbar menu.
In the classic editor, click the 'Source' tab above the edit area.
If you wish to always edit in source mode, you may wish to switch your preferences to the 'source editor'.
Notes
Source mode of the classic editor includes syntax highlighting.
Switching to source mode in the editors may take a few moments, as it requires the contents of the editor to be turned back into wikitext.
See also
Further help and feedback