This feature is not currently available on wikis which use the new Unified Community Platform (UCP).
See this page for more information on the new platform.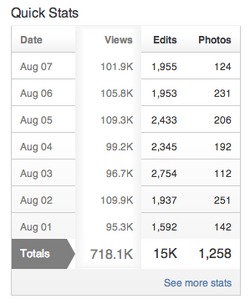 Quick Stats is a tool within the Admin Dashboard that displays the number of views, edits, and image uploads for a community for the last week.
Viewing the stats
Quick Stats is located within the Admin Dashboard, which is accessible to all admins of a community. The Admin Dashboard itself can be found by clicking the 'Admin' link on the toolbar at the bottom of your screen.
Once there, you can find Quick Stats on the right side of the page. Clicking on the "See more stats" link at the bottom will take you to Special:Insights, which contains more useful statistics about a community.
See also
Further help and feedback
Community content is available under
CC-BY-SA
unless otherwise noted.