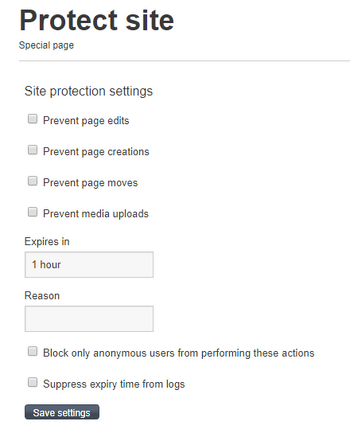 Protect site is an extension that allows Fandom Staff, the Volunteer Spam Task Force, and other volunteers to temporarily restrict certain actions on a community to stop major instances of spam or vandalism. Local administrators (the administrators for an individual wiki) can request that the extension be enabled for their use, though it is generally only enabled on communities that have an extensive history of spam or vandalism attacks.
Usage
This extension can be used to restrict actions to either registered users and administrators or administrators. The following actions can be restricted:
Administrators with access to Protect site will see a link to it in Special:SpecialPages and can use it from Special:Protectsite. The maximum amount of time for which an administrator can protect an entire community is 12 hours.
As this tool will prevent a large number of people from editing the community, both good and bad, it should not be used for an extended duration. The protection should only last long enough to be able to clean everything up. Similarly, protect site is not to be used for long-term protection. Local administrators can require editors to login via Wiki Features if logged-out user vandalism is a persistent problem. For other alternatives and options, please contact Fandom Support.
When used, it will show up in the protection logs and recent changes as a protecting of 'Special:AllPages.' If the user didn't decide to suppress the expiry time, it will also say how long the protection is.
How to request access
Local administrators can request that this extension be available for their use by contacting Fandom Support. The Community Team will then evaluate the request and determine whether it is the right fit for the community. Only administrators will be given access, if at all.
See also
Further help and feedback