Before you publish an edit to an article in source mode, it's a good idea to preview the changes you are making. That way, you know that everything looks the way you want it to.
Since our visual editors don't need preview functionality, this feature applies to the source editor only.
How do I preview changes?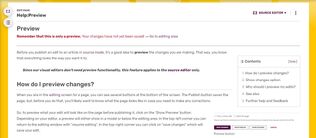 When you are in the editing screen for a page, you can see several buttons at the bottom of the screen. The Publish button saves the page, but, before you do that, you'll likely want to know what the page looks like in case you need to make any corrections.

So, to preview what your edit will look like on the page before publishing it, click on the 'Show Preview' button. Depending on your editor, a preview will either show in a modal or below the editing area. In the top-left corner you can return to the editing window with "resume editing". In the top-right corner you can click on "save changes" which will save your edit.
Show changes option
In the editor, you will also see a "show changes" button. Clicking on this will open a modal highlighting the differences between your yet-to-be-saved version and the last saved version of the page. Some people find this easier to examine for errors and completeness than a simple preview. As with the regular preview page, you can click Publish after showing changes to save your edits.
Why should I preview my edits?
To be clear, there is no technical requirement that you preview your edits. But it is helpful.
The biggest way? It lets you see the effect of your edits across several different device widths. Since the Fandom skin adapts itself to different screen sizes, it can be instructive to see how your changes affect the look of the page on tablets, desktop, and extra-large desktops. Most importantly, it gives you a glimpse of the page on mobile web, a radically different skin used on phones.
But some editors also use it for housekeeping reasons. Previewing your edits lets you include many changes into a single edit, thereby reducing the number of entries on the page's history.
See also
Further help and feedback