m

Line 28:
Line 28:
 
 
 

[[ar:مساعدة:مساعدة حول الصفحة الرئيسية]]

 

[[ar:مساعدة:مساعدة حول الصفحة الرئيسية]]

 
+

[[be:Даведка:Загалоўная старонка]]

 

[[de:Hilfe:Hauptseite]]

 

[[de:Hilfe:Hauptseite]]

 

[[es:Ayuda:Portada]]

 

[[es:Ayuda:Portada]]

Line 42:
Line 43:
 

[[vi:Trợ giúp:Trang chính]]

 

[[vi:Trợ giúp:Trang chính]]

 

[[zh:Help:首頁]]

 

[[zh:Help:首頁]]

 
+
 

[[Category:Help]]

 

[[Category:Help]]

 

[[Category:Policy]]

 

[[Category:Policy]]
---
Revision as of 04:12, 6 June 2017
The Main Page on any community is the page that can be accessed by clicking the community's logo. The Main Page is like a welcome mat - it is the primary landing page for your readers. Keep in mind that first impressions count!
Step by step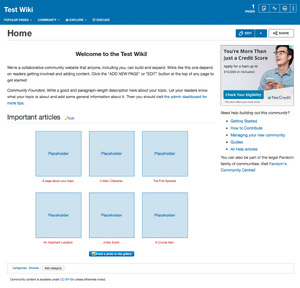 If you've just created a new community, your main page is populated with a set of default content, including the description, a live feed of the latest activity on your community, and a placeholder for a photo.
You can change any part of this page by editing it. Simply click "Edit" at the top of the page.
We recommend that your main page includes a short intro paragraph that tells your readers what your community is about and what people can expect to find there.
We also recommend that you include links to the most important articles on your main page. This will help readers find their way to great content quickly.
Many communities find that adding a slider to the Main Page is an attractive way to help users find great content. You can learn more about sliders at Help:Galleries, Slideshows, and Sliders.
Be sure to give your main page a clean design. It doesn't need to be fancy — it just needs to look good! The main page column tags that are already set up are the best way to organize the page's layout.
Advanced notes
The system message 'MediaWiki:Mainpage' defines the location of the main page - that is, where users end up when clicking the wordmark or visiting your community via the basic URL ('name.wikia.com').
If you rename your main page via the normal page rename tool, MediaWiki:Mainpage is automatically updated to point to the new location.
How to build a main page: video tutorial
See also
Further help and feedback
Community content is available under
CC-BY-SA
unless otherwise noted.