Links are foundational to a wiki. They let your readers click from one page to another — and thus explore your content easily. It's such a central part of wikis that the process of creating links is also known as wikification.
Make sure that all your pages have links to other pages on your wiki. However, not all links on a page need to go to other pages.
How to use
Using Fandom's visual editors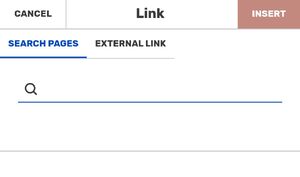 To create a link, click on the Edit button and follow these instructions:
Begin by highlighting the text you want to link.
Then click on the button on the toolbar.
A window will pop up which will allow you to create links. This window gives you two options for linking: an internal link or an external link. Internal links are pages within the wiki (or to another Fandom wiki). External links are to pages outside of Fandom. Select which one you need.
Enter the target of the link. For an internal link, enter the name of the page. For an external link, enter the full URL (including the "https://" part).
Make sure the text that should display for the link looks right. It should be displaying the text you highlighted earlier.
Click "OK". Your link will appear!
Using source mode
Source editing in the 2010 editor differs significantly from the approach offered by Fandom's visual editors. However, it also allows you the ability to link in many more sophisticated ways via wikitext. There are so many interesting details about linking to source that we've created a whole page about it!
Important notes
Until you're confident making links, don't forget to preview your changes before you save.
On most wikis, if your new link is red in the preview, either that destination does not exist or you typed it incorrectly. If you click on the red link, you will be asked to create the page.
Adding a link that goes to the current page appears as bold text instead of a link when viewing the page.
See also
Further help and feedback