This feature is not being brought to the new Unified Community Platform (UCP).
See Help:UCP for more information on the new platform.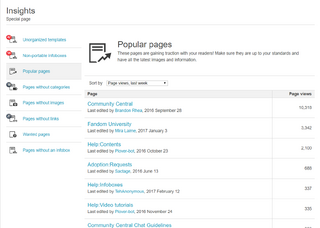 Insights is designed to help you spot articles on your community that have issues or may need attention.
Accessing Insights
Any user can access the feature by navigating directly to Special:Insights, by adding a link to their toolbar, or by using the link on Recent Changes. Some users may also see entry points on Admin Dashboard and Wiki Activity.
Insights List
Each Insights list has been chosen to help identify pages that are missing vital pieces of structure or content. It's a good idea to include links, categories, infoboxes and images on all articles to help readers find and navigate through your content, and for a more interesting experience.
| Insight Type | Description | Solution |
| --- | --- | --- |
| Unorganized Templates | These are templates that lack a template type, meaning that their template type is stated as "Unknown". | Update the template type. |
| Non-Portable Infoboxes | These are infoboxes that do not use the modern infobox layout (called 'portable infoboxes') and are not optimised for mobile. Non-portable infoboxes are also known as 'classic infoboxes'. | Convert these infoboxes to the new portable layout. A migration tool exists to help with this process. If the tool does not properly convert the infobox use these steps to create a version that more closely matches the wanted style and layout of infobox. |
| Popular Pages | This lists all of the trending content pages, listing their page views on the right. | N/A |
| Pages without Categories | This lists all of the content pages that lack categories (in other words, they are uncategorized). | Add at least one category. |
| Pages without Images | This lists all of the content pages that lack media (Videos, Images, etc.). | Add at least one photo. |
| Pages without Links | This lists all of the content pages that lack links, making them 'dead-end pages'. | Add at least one link. A template containing a variety of links, such as a navbox can also work. |
| Wanted Pages | This lists all of the 'broken' (red) links in an entire community. | Create the pages in this item or redirect them into another page. You can also review Special:WhatLinksHere and remove all of the links to a specific wanted page. |
| Pages without Infoboxes | This lists all of the articles that lack an infobox. | Add infoboxes to these pages. |
When an item on an Insights list has been fixed via Insights (e.g. clicking a result and adding a category to a page that previously had no categories), it will be immediately updated and from the list. Otherwise, the lists are updated once a day.
Many of the lists also display the number of page views each article received in the previous week - this column is updated every Sunday.
Notification Banner
When you choose an item from an Insights list, a notification banner will follow you to the editor of your preference and remind you what aspects needs to be fixed on that article. After you fix the issue, the banner will let you navigate back to the list or continue to the next item that needs to be fixed.
Further help and feedback
Community content is available under
CC-BY-SA
unless otherwise noted.