The image lightbox is a box that appears when you click on an image, allowing you to see the image in greater detail.
Features
User details
The top bar contains details of who uploaded a file and which articles it is used in.
Full size
The "see full size image" option opens the image directly in your browser, displaying the basic image without any Fandom options or features. Note: this option does not appear when viewing videos.
More info
The "more info" option takes you to the file description page, where you can view more information about the file, including its description, file history and more.
Sharing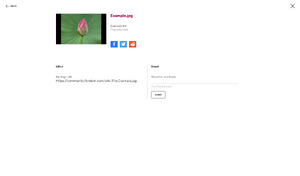 The "share" option makes it easy to share the image you are viewing. It provides the standard link box, where the link can be copied and shared into social media such as Facebook and Twitter. It also displays a link to the file description page, and a method of emailing the image to a friend.
Pinning the top and bottom bars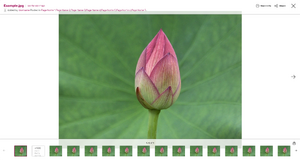 A button at the bottom right corner of the image lightbox allows you to 'pin' the top and bottom info bars. Once clicked, it will prevent the bars from hiding after a few seconds of inactivity.
Bottom carousel

The bottom carousel contains more images and videos, which can be viewed by clicking one of the images at the bottom of the image lightbox. You can also navigate through the carousel by clicking the arrows on either side of the main image.
Bypassing the image lightbox
To bypass the image lightbox, hold "Ctrl" (if you're on Windows) or "Command" (if you're on Mac), then left click an article image. Doing so will automatically take you to the file description page.
Hotkeys
There are three hotkeys:
The

→

arrow key leads to the next image
The

←

arrow key leads to the previous image.
Further help and feedback