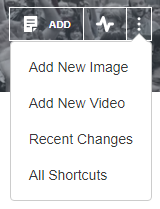 The header shortcuts are the buttons located on the right side of the community page header. They are used to access a wide variety of tools, such as adding a new page, viewing the wiki's activity, and more.
Shortcuts
This is a list of header shortcuts available in the page header.
Main Article: Help:New page
The "Add New Page" button is available to all users, logged in or out. It gives the user the ability to add a new page to a community.
Main Article: Help:WikiActivity
The "Wiki Activity" button appears to all logged-in users. It leads them to Special:WikiActivity, where the user can find a certain amount of a community's most recent activity.
Main Article: Help:Admin Dashboard
The "Admin Dashboard" button only appears to administrators, discussions moderators, and certain global user groups. It leads the user to Special:AdminDashboard.
The "More Shortcuts" button appears to logged-in users. When hovering on it, it shows the user the options to add an image, add a video, and go to Special:RecentChanges, where they can find a full list of activities in a community. The last option, being the "All Shortcuts" option, shows a dialog indicating all keyboard shortcuts available in a community.
Further help and feedback
Community content is available under
CC-BY-SA
unless otherwise noted.