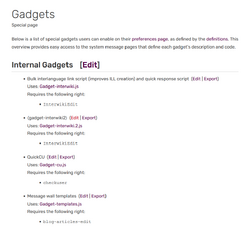 Gadgets allow users to pick JavaScript (JS) or CSS-based "gadgets" that other community users provide. This page details how to configure a gadget.
Gadgets are usually configured in MediaWiki:Gadgets-definition using the following syntax, where each field is separated by |:

* mygadget|mygadget.js|mygadget.css

The first field sets up the internal name of the gadget. The other fields are MediaWiki:Gadget-* pages that will be loaded for the user. In the above example, mygadget:
It's possible to configure options in the first field of your gadgets. For example:

* mygadget[ResourceLoader]|mygadget.js|mygadget.css
* mygadget[ ResourceLoader | rights=foo, bar ] | mygadget.js | mygadget.css

Option format

[option1 | option2 | ... optionN]

Whitespace can be omitted. The brackets are wrapped around either:
single option name (in this case it is a flag option), OR
contain a comma-separated list of values:
option = value1, value2, value3

Available options
To enable a gadget by default use "default":

* mygadget[ResourceLoader|default|dependencies=mediawiki.util]|mygadget.js|mygadget.css

To make the gadget available only to users with appropriate permissions, set the rights option. For example:

* mygadget[rights=foo,bar]|mygadget.js|mygadget.css

There's four gadget options available:
| Name | Parameters | Description |
| --- | --- | --- |
| ResourceLoader | None | Marks gadget's scripts as compatible with ResourceLoader. |
| dependencies | Comma-separated ResourceLoader module names | Note that this option has no effect if current gadget has no ResourceLoader-compatible resources (i.e. no styles and scripts not marked as compatible). |
| rights | Comma-separated privilege names | Disable the gadget (and make it invisible in preferences) for users who do not have these privileges. |
| default | None | Makes the gadget enabled by default for everyone (including anons!) having the required user rights. Registered users can still disable it in their preferences. |
References
This page contains content sourced from MediaWiki.org (CC-BY-SA).
See also