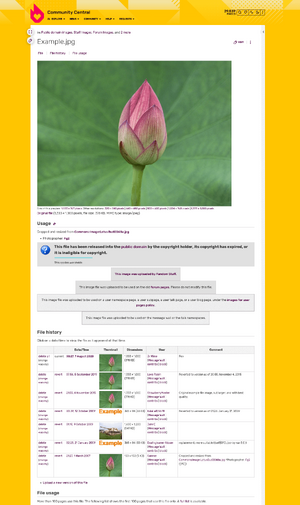 When you upload a file, it is placed on the server and a file description page is created. It is intended to provide information such as:
The description of the file and any other information relevant to the file, such as transcripts of its contents, intended usage, etc.
The origin of the file (author and source)
Additional technical information, such as other versions of the file
Note that files aren't limited to just images: Sound clips, videos, fonts, PDF documents and other file types that can be uploaded to the wiki all have description pages associated with them.
All files are placed in the File: namespace. Other terms include namespace 6 page or the deprecated image description page.
How do file description pages work?
How do you link to a file without displaying it?
How to replace a file?
How to edit a file description?
Is it possible to prevent editing a file?
See also
Further help and feedback