To optimize your wiki for the Fandom app, check out our other mobile help articles!
The Fandom app is a free mobile application for iOS, Android and Mac devices. It provides users with portable access to a wide range of topics and content, including wiki articles, Discussions, news stories, videos, and more from the entertainment world. It is a great tool for fans to stay up-to-date on the fandoms they're most passionate about.
You can download the app for your phone, tablet, or Mac from the iOS App Store or Google Play Store. The app is supported on phones and tablets running iOS 11 or newer and Android 5 or newer, or an Apple Silicon Mac with macOS Big Sur or later.
We occasionally release updates to the Fandom app to add new features or fix bugs. Please follow our Apps Technical Updates for timely news on improvements and new features.
Getting started
You can sign in to the Fandom app using your existing user account, or you can create a new account right in the app. You can sign in with your Fandom credentials or a connected social account; iOS and macOS users can also sign in with an Apple ID.
After signing in or creating a new account, you'll be asked to follow at least three fandoms. You can scroll through the available options or directly search for the fandoms you're interested in by using the search bar. Once you're done selecting which fandoms to follow, you'll be sent to the home view.
On iOS and macOS only, you may skip the account process and jump straight into the app's content. However, you will not be able to follow any fandoms and you won't be able to participate in Discussions unless you log in or create an account.
Main app views
There are five main views available from the toolbar at the bottom of the screen.
Home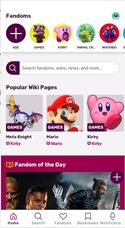 The home view displays a carousel of your recently-visited fandoms at the top, followed by a vertical news feed of editorial content tailored to the fandoms you're following. This news feed is hand-curated by Fandom to guarantee that all the content you see is relevant and of high quality. This content includes breaking news, feature stories, reviews, videos, and social conversations from countless entertainment news sources around the web such as Twitter, IGN, GameSpot, YouTube, and Pottermore.
As part of the home view, you'll occasionally see a carousel of other trending fandoms that you don't currently follow but might interest you. You can decide whether you want to add any of these trending topics to your followed list. You'll also occasionally see a carousel of featured news articles from other fandoms.
If you choose not to follow any fandoms, or if you're on iOS or macOS and not signed in, the home view will show a non-personalized feed of trending news across all fandoms.
Search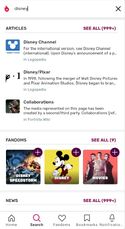 The search view allows you to search for content from all of Fandom, including wiki articles, fandoms, and news articles. The article results include wiki articles from all wikis, not just wikis with fandom topic cards in the app. However, the news results do not include curated content from non-Fandom sources.
Fandoms
The fandoms view, similar to the initial sign-up process, allows you to browse all of the available fandoms and select which ones you'd like to follow.
Bookmarks
While reading a wiki article or news article, tapping the bookmark icon in the top right corner will add it to the bookmarks view. Tapping it again will remove it.
The bookmark view lists all of your bookmarks in the order you bookmarked them and displays the date you added each bookmark. This allows you to save a link to an article for reading at another time; however, keep in mind that reading bookmarked articles still requires an internet connection as the article is not saved to your device.
Bookmarks are specific to your device. If you switch devices, your bookmarks will not transfer.
Notifications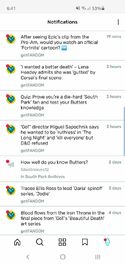 The app will send push notifications to your device about breaking news from your favorite fandoms, as well as updates on Discussions posts you are following. A historical view of the notifications you've received is presented in the app's notifications view. From here, a red notification bubble will appear next to any unread notifications, which you can tap to view the related content. You can also tap the menu button in the top right corner to mark all of your notifications as read.
If you wish to disable the app's push notifications, you can do so through your phone's settings for the Fandom app. Even if you disable the app's push notifications, you can still use the app's notifications view to browse through your recent updates. A red bubble will appear next to the bell icon in the bottom toolbar if there are any unread notifications available in the view.
Other views
Fandom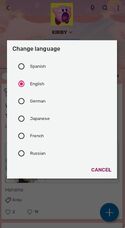 When tapping on the card for a specific fandom, that fandom's page will appear.
If a wiki is attached to the fandom, the wiki's information can be shown by tapping its name at the top of the screen. The wiki's Mobile Main Page categories will appear underneath, along with a Surprise Me button that loads a random wiki article. The top right corner contains a notification bell for any notifications you have received from the wiki, a search button to search through the wiki's articles, and a menu button to follow or unfollow the fandom. If other language wikis are available, the menu button will also allow you to change languages.
If the fandom has Discussions or news stories in addition to the wiki, they will be available under the fandom's "Home" tab, while wiki content will be under the "Wiki" tab. If a fandom does not have a wiki attached, only a feed of news stories will appear and the notification and search icons will be hidden. News stories are currently only in English and cannot be switched to another language.
Article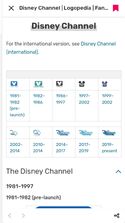 When tapping on a Fandom news article or wiki article, the article will display in the app.
News articles appear with a header area that contains an image, the article's title, its category, its author, and a timestamp, as well as bookmark and share buttons. A back button at the top left allows you to return to your previous view. Scrolling through the article will shift the buttons to the upper bar that appears.
Wiki articles appear similar to mobile web. The article's title is displayed at the top, followed by the infobox if one exists, and the article's remaining content below. The bookmark icon is available at the top-right, while the bottom toolbar displays back and forward link navigation buttons, a share button, and a Related Posts button. The Related Posts button will take you to a portal containing all Discussions posts that have been tagged with that article. The bottom toolbar disappears after a short while or when scrolling down. To bring the bottom toolbar back, simply scroll up. Comments do not appear in the Fandom app.
Profile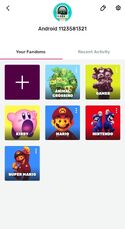 Your user profile is available by tapping your avatar in the top right corner from the home view. Your username, avatar, and biography are the same as those shown in your user profile on Fandom's mobile and desktop websites. Tapping the pencil icon in the top-right corner will allow you to change your avatar and biography, but not your username. Click here for details on how to change your Fandom username.
Below your profile is a list of your followed fandoms. You can tap any of the cards to visit the fandom, the menu button to unfollow the fandom, or the plus icon at the top of the list to add more fandoms from the fandoms view.
Next to your fandoms is a Recent Activity tab. This section displays your recent Discussions posts and replies from your followed fandoms, which can be filtered from the dropdown menu at the top of the section.
The top right corner also houses a gear icon that you can tap to go to the app's settings. From there, you can enable the app's dark mode or provide feedback, as well as review Fandom's terms.
Other features
Shortcuts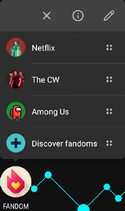 By long-tapping the Fandom app icon on your phone's home screen, you can open a dropdown menu showing your most recently visited fandoms. Tapping on one of the fandoms listed will open the app and take you straight to that fandom. The dropdown menu also includes options to recommend the app to friends and to discover more fandoms within the app. This is available for users on Android 8.0+ and iOS.
Draft saving
On Android only, you can publish Discussions posts from drafts. If you exit a post without publishing it, it will automatically be saved as a draft and stored for later. When you come back and enter the post creation menu once again, you can recover your previous drafts and publish a post from there.
Providing app feedback
If you think you've found a bug, have a question, want to suggest additional fandoms, or would like to share your feedback with Fandom about the app and/or its content, you can send us a message via the app's feedback button, available by tapping the gear icon in the top right of your profile view.
Further help and feedback