Email notification is an addition to the MediaWiki software that allows you to receive an email if a page you are following is edited.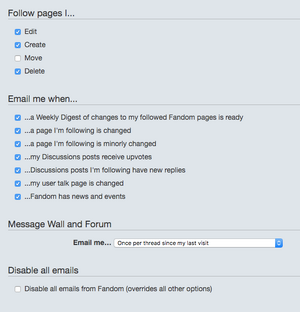 How do I enable Email Notifications?
To use email notifications, add an e-mail address in your preferences, confirm that e-mail address, and enable the options you desire in your user preferences.
How many emails will I receive?
That depends on which options you choose. If you select "E-mail me when my user talk page is changed," you will receive emails when others are trying to contact you. This is also true for Message Wall related email preferences.
You can also choose to recieve a mail every time a message is posted on a wall or forum thread you are following.  Or you can choose to recieve one once per thread since your last visit
If you select "E-mail me when a page I'm following is changed", then the volume of mail depends on how many pages you have on your watchlist, and how active other editors are on the wikias where you are following pages.
You will receive a single e-mail whenever a followed page is edited. You will only be notified once per page, even where multiple changes are made between visits (i.e. you get an email on the first edit by someone else after you viewed the page). You won't be notified of changes you made yourself. You can choose whether you want to be notified of all changes, or only those which are not marked as minor edits.
The email will provide a link to the article, and also a direct link to the difference between the version you last saw and the current version.
Followed Pages Digest
You can also choose a weekly digest ("E-mail me a Weekly Digest of changes to my followed Wikia pages"). This is a weekly email that will inform you of any pages you are following that you haven't visited yet. It's a great reminder for those important pages that slip by on occasion, or if you have a large number of followed pages.
How do I unsubscribe from all emails from Wikia?
To unsubscribe from all emails, select the last option in your email preferences: Disable all emails from Wikia (overrides all other options). Once you select this and save, all other options will be deactivated.
Can I customize the notification email sent out for changes on my wikia?
The text of the notification email can be changed by any admin on the wikia by editing MediaWiki:Enotif body (MediaWiki:Enotif body-HTML for HTML emails) and MediaWiki:Enotif subject in the MediaWiki namespace. Any text added here will override the default email text.
See also
Further help and feedback
Community content is available under
CC-BY-SA
unless otherwise noted.