Line 11:
Line 11:
 

;<big>[[Help:Classic editor]]</big>

 

;<big>[[Help:Classic editor]]</big>

 

: Other users will see the classic editor, including the older visual editing experience and basic source [[Help:wikitext|wikitext]] editing.

 

: Other users will see the classic editor, including the older visual editing experience and basic source [[Help:wikitext|wikitext]] editing.

 
+
 
+

Wikis on the UCP framework will have a different editing experience.

 
 
 

== Quick tips ==

 

== Quick tips ==
---
Revision as of 23:00, 21 August 2020
Wikis based on the new Unified Community Platform (UCP) may look or behave differently to what is described below.
See this page for more information on the new platform.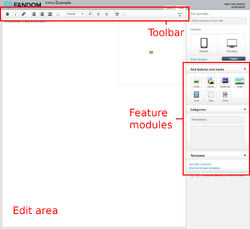 Editing on Fandom is as simple as clicking the "Edit" button on a page. Doing so will take you to an edit page where you can make changes to the page and add new information and media, correct errors, or update the formatting.
Depending on whether you are logged in or not, you may receive a different editing experience:
Most anonymous and newer users will see the VisualEditor. It's an editing experience based around showing you an accurate visual representation of your changes.
Other users will see the classic editor, including the older visual editing experience and basic source wikitext editing.
Wikis on the UCP framework will have a different editing experience.
Quick tips
Once you are in an editor, you can use the available tools to quickly add and remove information, change the formatting, add new images and videos, update the page's layout, and much more! Once you're done making your changes, just click the "Save page" button to update the page.
Don't be afraid if you "break" anything. All edits to a page are stored in the page history, and if something does go wrong you can simply revert to an older version.
If you want to edit a page without clicking the "Edit" button, you can press E on your keyboard, and the page will automatically load the preferred editor.
Editing is not yet possible through the Fandom app.
Choosing an editor
Logged in users can choose their default editor from a dropdown list in their user preferences (found here).
Setting
Meaning
VisualEditor
Shows the VisualEditor on all communities.
Classic rich-text editor
(where available)
Shows the classic rich-text editor where available.
If not, the source editor is shown.
Source editor
Shows the basic source editor on all communities.
Anonymous users will almost always see the VisualEditor by default. In a few specific cases, the VisualEditor may not be available on a particular community.
Additionally, the alternative editors can still be found under the Edit button dropdown - for example, you can still access the classic editor from the dropdown even if the VisualEditor is the default.
Further help and feedback