You can create an account and log into Fandom using your existing Facebook, Google or Twitch account. It helps speed up the account creation process by allowing you to use a social account, and you will not need to remember separate login credentials for Fandom. In addition, logging in via an existing social account lets you take advantage of any additional security measures those platforms have implemented, such as 2-factor authentication.
Step-by-step
Creating a new account
To register using one of your social accounts click on the Connect with Facebook, Connect with Twitch or the Connect with Google button on the signup screen.
A pop-up window will appear, requesting that you log into your social account (if you're not logged in already), select a Fandom username and give your birth date. Once that's done, click Register.
Your account is now created and connected!
For all future logins to Fandom:

If you are already logged into Facebook, Twitch or Google, you can simply click on the corresponding button and be automatically logged into Fandom.
If you are not logged into your social account, when you click on the social login button on Fandom, you will be prompted to log into your social account. You will not need to enter your Fandom username or password. Once you enter your social login information, it will automatically load your Fandom account.
Connecting your existing Fandom account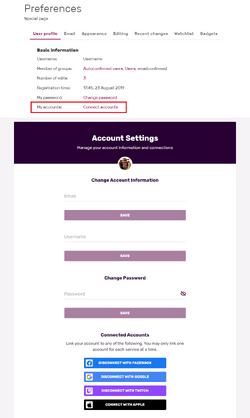 If you already have a Fandom account, log in and visit your preferences (available in the menu under your username, at the top right of the screen). Choose the "Connected Accounts" tab, click the button for the social account you want to connect.
Your Fandom account will now be connected to your social account.
You can disconnect your Fandom account from your social account at any time in your preferences by simply clicking on the button labeled "Disconnect from Facebook", "Disconnect from Twitch" or "Disconnect from Google", respectively.

You will continue to use the password you previously set for your Fandom account.
If you never previously had a password on Fandom, we'll automatically send you an email with instructions on how to set one.
Account settings and privacy
Facebook, Google and Twitch account passwords are stored with the respective company, not on Fandom. If you lose or alter your password, please contact that platform directly.
If you had a Fandom account prior to connecting with Facebook, Google or Twitch, you can still use that account information to log in at any time.
Next pages
Further help and feedback