This feature is not currently available on wikis which use the new Unified Community Platform (UCP).
See this page for more information on the new platform.
Community messages is a feature that allows admins to highlight things that are important for members of the local community to know about. For example, this space can be used to organize a project, show off new pages, or highlight an ongoing discussion. It's most effective at reaching your logged-in users who visit your site regularly. It's also great if you have more than one thing to say at a time.
But if you have a single message to deliver, you may want to consider using the more modern Announcements tool, since people can receive those message no matter where they are on Fandom.
Step by step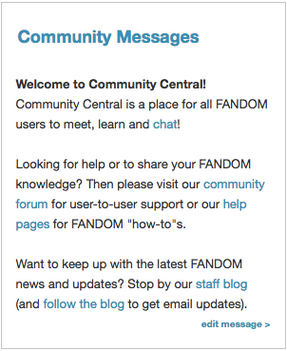 The community message is located on the Wiki Activity page
If you are an admin, you can change it by clicking on edit message. This will bring you to MediaWiki:Community-corner—the page you need to edit. After publishing the edit, your changes will appear immediately.
Users who are active on the community in the hours after Community Corner is changed will receive a notification about the change, similar to the notification for talk page messages. These will disappear after 24 hours if not dismissed by the user.
Edits to community messages that are flagged as "minor" will not trigger notifications.
If you would like to change the notification message itself you should edit MediaWiki:Communitymessages-notice-msg before publishing the related edit to Community Corner. This allows you to tailor your wiki's notification message to your community's topic.
Don't go crazy. Simpler messages are often easier to understand.
Next pages
Further help and feedback
Community content is available under
CC-BY-SA
unless otherwise noted.