Were you looking for Help:Feeds?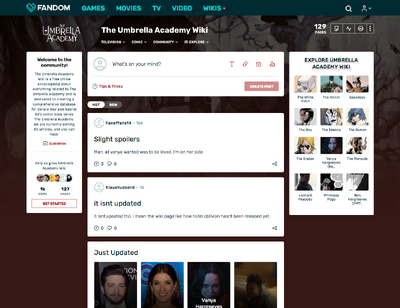 Community Feeds is an experimental new community landing page currently being tested on a select handful of communities. This new experience is part of Fandom's Unification project and aims to bring together all community content — wiki pages, conversational posts, videos, images, polls, and more — in one place so fans can dive in and contribute.
The feature is still in an alpha test stage, meaning it's still at the beginning of its development process. It's therefore incomplete and only available on a few communities where we can begin to gather data about how people use it and feedback about how it should evolve. We want to hear what you think as we further develop the Feed and introduce it to more communities.
If you'd like to share feedback, contact us directly at Special:Contact/feedback or community@fandom.com!
Where are Community Feeds located?
Community Feeds are currently active on thirteen communities covering anime, gaming, movies, and TV. You can find it by going to the wiki's domain (such as https://starwarsresistance.fandom.com) and adding /f to the URL.
The Community Feeds experience is currently located on the following communities:
Anime
Gaming
Movies
Television
These community's Feeds are available on desktop, mobile, and the Fandom app. An earlier version of Community Feeds took over the root subdomain of a community (as in, https://horror.fandom.com) but that automatic redirect has been removed. Logged out users continue to see the wiki's main page at the subdomain. Newly registered accounts will have Feeds set as their default landing page for any community where Feeds is active, and we will study user data and feedback to see if this leads to an increase in contributions. All users have the option of setting Feeds as their main landing page in their account preferences, or continuing to select the previously available options of Main Page, Wiki Activity, or Recent Changes.
What you can see in the Feed
The center column of the Feeds page shows you contributions from other users. Currently, this is primarily posts that users have made, yourself included. There is also a module that shows some of the most recent updates to the wiki. You can choose to see the contributions filtered by what's newest or by what's trending.
On the left, you'll see a description of the community, a link to its guidelines, and a link to the Community Page where you can find out how to help add content to the wiki. The right rail shows you suggestions for some of the most popular articles on the wiki that fans are looking at.
Community Feeds are also themed to reflect the theme of the wiki on desktop and mobile.
How you can contribute
Much like Discussions, the top of the Community Feed provides you with several contribution options: adding a text post, sharing a link or image, or creating a poll. You can also vote in polls, add replies, and upvote contributions by other users.
Category selection is not available here, and all contributions made through Feeds are automatically added to the General category if you view posts via Discussions. Communities in this experience were carefully chosen so as to not be too disruptive with the lack of categories. Any post you contribute to the Feed will also appear in that community's Discussions.
Product development roadmap
As Community Feeds continues to evolve, here is what we have planned for its product development roadmap in 2019:
Some other things we're going to look at include the right balance of manual curation by community and staff, and what content is automatically added. There are some other experiments we may make here and there as well, so we're leaving ourselves room to explore new ideas as they arise.
How a lot of these different development goals are accomplished will be heavily influenced by data that we collect on how users are using Community Feeds, as well as community feedback.
Roadmaps are sometimes subject to change based on data and feedback, so any changes to the Community Feeds roadmap will be added here to reflect the evolving development process.
Further help and feedback