This app is no longer actively supported
No new features are being added and bugs may not be fixed.
For the best mobile app experience, switch to the unified Fandom app.
What were Community Apps?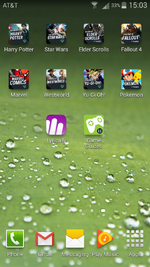 Community Apps were a range of free apps available for Android and iOS. Fandom communities that met certain criteria could apply for their own Community App. The apps provided an optimal display and format for mobile devices, allowing for readers to easily navigate and explore communities on the go.
Community Apps were discontinued in December 2019. They no longer function on devices running iOS/iPadOS 13 or higher, and may not function on newer Android versions. All Community Apps have been removed from the iOS App Store and Google Play Store.
Communities that met the criteria for Community Apps are now included in the unified Fandom app, which is supported on newer Android and iOS versions. The unified app allows Fandom users to read and interact with multiple communities in one central app.
Click here for more information on how Community Apps worked, including the home screen, content navigation, and search features.
Further help and feedback
Community content is available under
CC-BY-SA
unless otherwise noted.