Every founder of a Wikia has bureaucrat access on the wiki they founded. Other users may also be granted this access, by the founder, or by another bureaucrat. This page is a basic guide to using your bureaucrat powers.
How do I grant rollback or admin rights?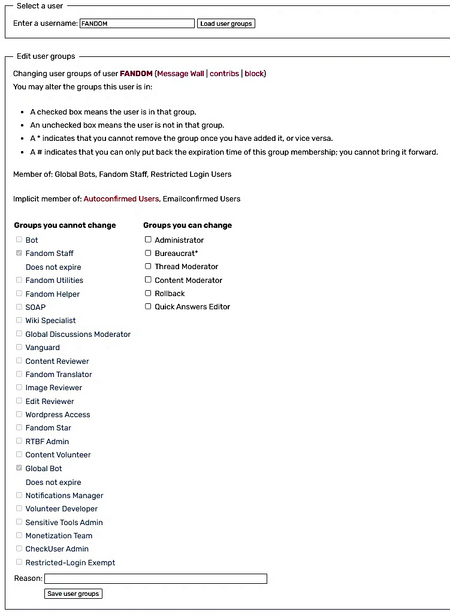 A bureaucrat can grant rollback, administrator, and bureaucrat rights using Special:UserRights. While bureaucrats can revoke rollback and admin rights, only staff can remove bureaucrat rights. There is a link to UserRights on the list of special pages, which is always available in the toolbox in the sidebar menu. Sysops have the rollback ability by default, so adding rollback to administrators grants no additional rights.
First enter the user's name (case sensitive!) and click "Edit User Groups". The form shown at the right will be made available. Select the appropriate right(s) under "Groups you can change", fill in "Reason for change", and click "Save User Groups". Make sure you're giving rights to the right person by checking the links to the user page and the contributions! Once you save the form, a confirmation message will display which groups the user is now in, and the change in rights will be recorded at Special:Log/rights.
The user gains administrator access immediately. There is a link to the user's talk page on the form -- after receiving the confirmation, you may wish to use this to notify and congratulate the user, and perhaps provide links to Help:Administrators' how-to guide and any local policies for administrators on your wiki.
See also