Automatic wiki adoption is an extension on wikis created in May 2011 and later that allows someone to adopt a wiki with an inactive admin team at the click of a button, avoiding the adoption request process.
What is auto-adoption?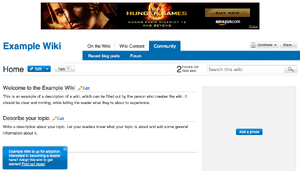 Beginning in May 2011, all wikis were created with an automatic adoption extension that allows users to adopt a wiki, thereby becoming its new administrator, once the previous administrators became inactive. This is done by clicking the link in the notification bubble alerting you that the wiki can be adopted. Following through on that process will grant the user who did it administrator and bureaucrat rights.
What are the criteria for auto-adopting a wiki?
If you are interested in auto-adopting a wiki, you:
must not have adopted another wiki within the past 60 days.
must have 10 edits on the wiki.
must be a registered user.
must not be blocked on any wiki.
may not adopt if you are already an admin on the wiki.
All of these criteria must be met for you to be able to adopt the wiki.
How do I auto-adopt a wiki?
First, let's walk through the process for current administrators. If there have been no admins editing on the wiki for 45 days, they will be sent an e-mail alerting them that there has been no admin activity on the wiki. At 57 days of admin inactivity, another e-mail is sent to them giving them 3 more days to make an edit. After 60 days, a wiki adoption notification will appear on users' toolbar, and a final e-mail goes out.
Once the wiki reaches the 60 day mark, the notification bubble saying that the wiki is set for auto-adoption also becomes visible, and anyone who visits the wiki can see it. It should be noted that as soon as an administrator edits on the wiki, this bubble will disappear and the amount of days an admin has been inactive will be reset to 0.
After that, the guidelines for adopting the wiki are simple! Click the "Find out more!" link in the notification bubble to be taken to a confirmation page. Once there, it will ask you to confirm if you would like to adopt the wiki.
If you confirm you do want to adopt it, you will be given admin and bureaucrat rights, and the previous bureaucrat(s) will lose their bureaucrat rights. They will, however, retain admin rights.
If you do not meet the criteria, you get an error message and cannot adopt the wiki.
Next Pages
Further Help & Feedback
Community content is available under
CC-BY-SA
unless otherwise noted.