Announcement notifications can be used to draw a community's attention to a specific page or post. Announcements are available on all Fandom communities.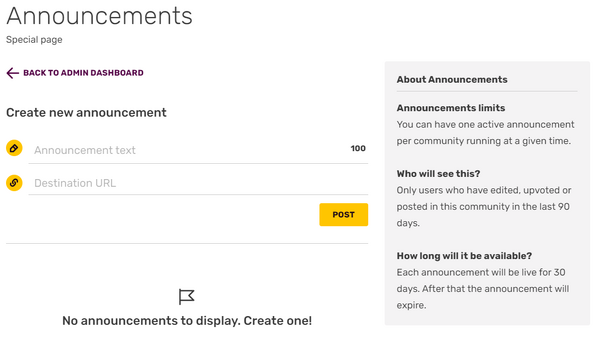 Managing announcements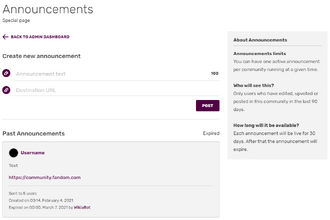 Administrators and Discussions Moderators can use the announcements management page to create new announcements and browse a log of the last 30 announcements.
The announcements management page is linked from the Admin Dashboard. It can also be accessed from Special:Announcements.
Creating an announcement
An announcement has two elements:
The announcement text is what users will see in their notifications and what they will click or tap. The announcement text is limited to 100 characters.
The destination URL is where the notification takes the user when they click or tap it. This URL can point to a wiki article, a Discussions post, a blog post, or any other page on the community. The only requirement for the destination URL is that it points to a fandom.com or wikia.org page.
A community can only have one active announcement at any time. Announcements automatically expire after 30 days, but Administrators and Discussions Moderators can manually expire an announcement at any time before that. If multiple announcements are needed at one time, a news page or a blog post can be used to provide all the details and then used as one announcement's destination URL to direct users there.
Recipients
Note: Due to the split nature of Fandom and Gamepedia's separate notification systems, the notifications for announcements will remain in the Fandom column of the notifications module, regardless of their source.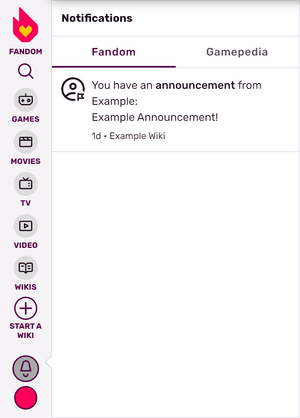 Announcement notifications are sent to all users who have been active on the community in the last 90 days. This includes users who have edited on the wiki or created, replied to, or upvoted a Discussions post.
Once an announcement is created, the management page displays how many users the notification was sent to.
See also
Further help and feedback