The Admin Dashboard is the central location for the tools used to maintain a wiki. Important special pages are listed here for easy access, and a selection of tasks are provided to help grow new communities. Wikis can also enable or disable Wiki Features through the Admin Dashboard.
Only Administrators, Discussions Moderators, and certain global user groups can access a wiki's Admin Dashboard.
Accessing the dashboard
There are three ways to access the Admin Dashboard:
List of tools
General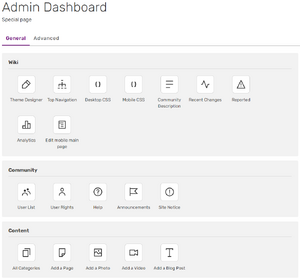 The General tab provides quick links to the tools used most often. This tab is further split into three sections:
Wiki
Community
Content
Advanced
The Advanced tab lists most of the special pages that aren't listed on the General tab. These special pages, along with the special pages linked on the General tab, can also be found at Special:SpecialPages.
This tab is split into eleven sections:
Progress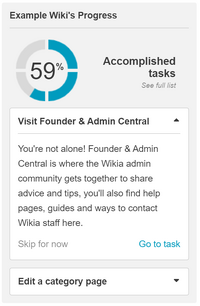 On newly-created wikis, the Admin Dashboard allows administrators to track the wiki's initial growth. The Progress module presents a series of tasks to complete, including benchmarks to reach. As tasks are completed, new tasks will be presented. If you're an admin of a new wiki and you aren't quite sure what you should be doing to grow your wiki, the Progress module can help!
None of the tasks are mandatory. They are simply guides on how to improve and grow a new wiki. Each task has a link to the relevant page where it can be completed, as well as a link to skip the task entirely. Skipped and upcoming tasks can be reviewed by clicking the progress percentage or the "See full list" link next to the percentage.
The Progress module will not appear on wikis that have completed all the tasks. It will also not appear on wikis created before the Progress module was added.
Wiki Features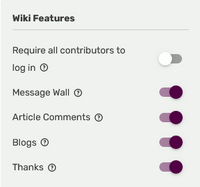 Wikis can activate or deactivate certain Wiki Features through a module on the Admin Dashboard. All of these are optional and can be enabled or disabled at any time.
See also
Further help and feedback