Fandom's forums are a place for the community to help other members.
To contact staff directly or to report bugs, please use
Special:Contact
.

Sample wordmark (logo)
The Logo Creation wiki doesn't just do logos, but also can help with favicons and themes.
We could really use some theme experts, though. -- Fandyllic (talk · contr) 1:04 AM PST 29 Dec 2010
---
Sample logo
The logo creation campaign helps wikis that need a logo -- this is one of the first things that should be done after creating a new wiki!
If you would like help creating a logo for your wiki, please visit the Logo Creation Wiki and post a message in the forums. Describe any ideas you have in mind, and helper JoePlay or another staff or community member will do their best to provide something special for you. If you enjoy graphic design, please feel free to join the Logo Creation community and help out!
If you're an admin on a wiki, you can add a logo directly by uploading an image called Wiki.png. Logos should be no more than 216 x 155 pixels (135 x 155 for Monobook skins) and must be in PNG format. See Help:Logo for more details.
Happy editing! — Catherine (talk) 22:13, 12 August 2008 (UTC)
---
(Previous logo requests on this page have been archived.)
Just in case folks wanted to keep the Logocollection.png at the Help Wikia up-to-date, we at Wiki 24 have since updated our logo. Apologies in advance if this was posted in the wrong spot! Blue Rook 04:40, 12 November 2008 (UTC)
How about a better one for Central, first?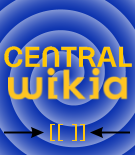 is a first draft idea. -- nae'blis 23:17, 21 January 2009 (UTC)
Clear your mind and look closely at the new central wikia logo proposal: You will use this logo for central wikia... You will use this logo for central wikia... You will use this logo for central wikia...