Wikimania is the annual international conference of the Wikimedia Foundation.
Note: this page was written before the name change from Wikia to Fandom
Wikimania 2017
[
]
Wikimania 2017 was held on August 9-13 in Montréal.
Wikimania 2016
[
]
Wikimania 2016 was held on June 21–28 in Esino Lario.
Wikimania 2015
[
]
Wikimania 2015 was held on July 15-19 in Mexico City.
Wikimania 2014
[
]
Wikimania 2014 was held on August 6-10 in London.
Wikimania 2013
[
]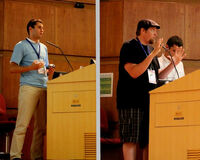 Wikimania 2013 was held on August 7-11 in Hong Kong. Wikia engineers Christian and Inez attended to present about the VisualEditor project.
Wikimania 2012
[
]
Wikimania 2012 was held in Washington, D.C. Wikia sent a group of staff to attend. Read more here!
Wikimania 2011
[
]
Wikimania 2011 was held on August 4-7, 2011 in Haifa, Israel.
Wikimania 2010
[
]
Wikimania 2010 was held in Gdańsk in Poland in July. Many Wikia staff attended, especially from Wikia's Polish office.
Wikimania 2009
[
]
Wikimania 2009 was held in Buenos Aires in Argentina, South America. Wikia was pleased to be able to provide sponsorship to Wikimania again this year. Jimmy, Angela, and Juan David attended and hosted a Wikia Party.
Wikimania 2008
[
]
Wikimania 2008 was held in Alexandria, Egypt from 19-21 of July. Wikia's gaming and entertainment divisions each sponsored Wikimania. From Wikia, Jimmy, Angela, and Juan David attended.


Wikimania 2008 video by Frank Schulenburg
Wikimania 2007
[
]
Wikimania 2007 was held in Taipei. Wikia was pleased to sponsor Wikimania again in 2007.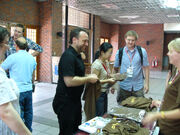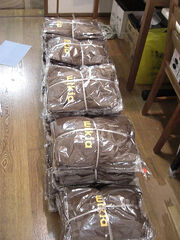 Wikians met for several meetings during Wikimania 2007 in Taipei.
August 2
On August 2nd, early arrivers to Wikimania met for pizza at lunchtime to discuss users' common problems, what new features we need most, what existing features need improvements, and more.
August 3
On August 3rd, Angela's 30th birthday dinner was held at Chopstix
August 4
We met for lunch on the 4th to talk more about Wikia! In the evening, we joined the official Wikimania party and film festival at the Red Theater.
August 5
Wikians joined the Creative Commons Party.
August 6
Following Wikimania, we held a Taipei City Tour and visited the National Palace Museum, Chiang Kai Shek Memorial Hall, and Taipei 101. We had lunch at Dintaifung and dinner at Shintori.
Who was there?
Alexmoskowitz, Angela, Angies, BillK, Bobo12345, CatherineMunro, Charles Matthews, David Beall, dbslikacheung, Dumos, Eloy, Emil, Geo24, Gil, Inez, Jimbo Wales, Johnq, KaurJmeb, PanSola, Pedist, Ppiotr , Rataube, Sannse , Shoichi, Stewartcc, Tim Starling, Yujeromyu, Yukichi, and Zuirdj.
Wikimania 2006
[
]
Wikimania 2006 took place in August in Cambridge, Massachusetts, on the Harvard Law School campus. Many members of Wikia staff attended, along with some Wikia users and Uncyclopedians. The conference provided the first opportunity for a general Wikia meetup.
The following Wikians attended Wikimania 2006.
Links
[
]
See Wiki conferences for other wiki events.