Recently, our wiki's under constant attack by a vandal, which repeatedly screws up our reporting thread every time by spamming text with huge font size that makes it lag so hard and extremely difficult to remove.
An example is this: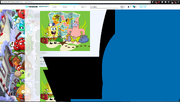 Can someone tell me how to fix this huge mess quickly? I've tried inspect element but it's really tedious and quite impractical considering the lag. This dude keeps coming back so he probably used a proxy or VPN, and cleaning this thing up isn't an easy job.
Something that instantly reverts and/or deletes this user's actions is appreciated.