I've recently been making some changes to a wiki my friend and I created a few years ago. One of the changes I tried to make was one I had been wanting to for a while. I had attempted to add categories to the top navigation bar. Unfortunately, I couldn't find anything that helped me with what I was looking for, and being a novice editor, I didn't know how to do it myself. I attempted to add it to the code with "*Categories", but, unsurprisingly, this didn't work. I also, despite my many years on this platform, don't know how to find a list of all the categories on my wiki, or if that is even possible.
Additionally, when I was making the attempted changes, I mistakenly thought I had deleted the "Explore" section and attempted to re-add it with "*Explore". When I returned to the homepage, I realised that the Explore section was simply unmarked in the code and was still there and that my new, useless "Explore" section with no dropdown bar could be deleted from the code, which I then did. Upon exiting the code editor and returning the admin dashboard, everything seemed fine. However, when I returned to the homepage (or any other page), I realised the unusable "Categories" and "Explore" sections were still there.
Any ideas on how to help are appreciated. Images attached to make my story slightly more cohesive.
How the navigation bar should look, and how it does on the admin dashboard.

How the navigation bar appears on any other page.

How the code currently looks.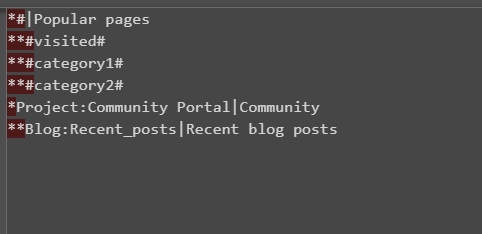 Once again, any help is appreciated.