I have a wiki where I use nuvola icons for interfaces.
This is how MediaWiki:Blockedtext should come out when someone tries to edit.
Your account, $7, has been officially BANNED from the Creatures wiki until further notice.
---
Why did you break the rules? -__-;
Here's what you did;

$2
Your start of block: $8
You expiry of block: $6
Your block ID: #$5
You current IP address: $3
You can contact $1 or another administrator to discuss the block. Please include all details in the above box in any queries you make.
"But I'm blocked... How do I do that?"
You can usually still e-mail users (if you registered your Wikia an e-mail) and talk page. If not, and your block expiry if indefnite, it means you are regretably permanently banned from the wiki. But if you don't have any access but your block duration isn't indefinite (or a duration longer than 2 years), you'll just have to wait it out.
Sorry about that.
And the result?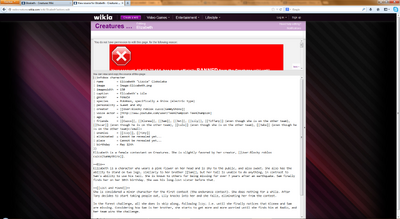 This is ridiculous. Also, it automatically takes me to the log in page, which is useless. Is there a way people can view my wiki correctly? Maybe it should be fixed to MonoBook.