I've been completing the progress things and this one is driving me crazy! I've created a FB group and just a advertising-type page for the wiki and still can not complete this. Picture shows what I am talking about: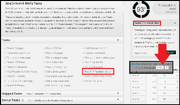 The large box shows the "progress" thing and the small box on the right shows the like button and the 5 random likes haha (Hey, it's more than 3!) so what am I missing here?
Do I need to list the wiki/fb somewhere, somehow connect the wiki and FB pages, or what?