I tried to edit a template on the Blood Brothers Wiki this morning and found this.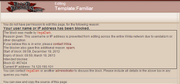 I was logged in at the time, and that is not my IP Address. To make matters more confusing, I refreshed the page, and it was still there. As a Founder/Bureaucrat at Blood Brothers Wiki, and the creator of the template in question this baffled me. After logging out and back into my account, the block has been removed.
On top of that, I found This Old Forum Post about VegaDark, so my confusion has been compounded.
Do I need to block the VegaDark account on Blood Brothers Wiki, is it even possible, or are there even any steps I need to take?
Thanks!