هذا ملعب المستخدم Mohammad Kamal Shady.
---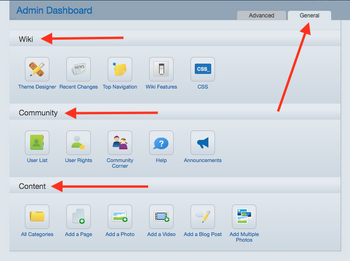 لوحة الإداريين is your go-to place for the main tools you'll need to run your wiki. It puts the most important special pages at your fingertips.
Accessing the dashboard
The Admin Dashboard is available on all wikis you currently administer.

It can be found by clicking on Admin in the toolbar at the bottom of your screen, by visiting Special:AdminDashboard, or by clicking on the dashboard icon located on the right side of your wiki's page tally. Non-admins and non-discussions moderators who try to access the admin dashboard will get a permissions error, instead.
How it works
General tab
Important, often-used admin tools live on the General tab.
Wiki

Community

Content
Advanced tab
The Advanced tab is home to the rest of the special pages, normally found on Special:SpecialPages. (If you visit a community that you are not an admin of you will see Special:SpecialPages in a more basic format.)
Quick Stats
Quick Stats lives on the right side of the Admin Dashboard. Here you can monitor your community's recent statistics. It shows page views, edits, and photo uploads for the past seven days.
Additionally, there is a link on the bottom of the module that leads you to advanced statistics on Special:Insights, where you can find information about infobox portability and more.
Progress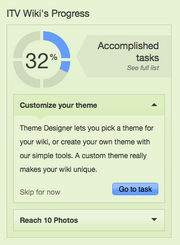 On newly-created wikis, the Admin Dashboard is also a place to track your progress as you grow. It sets series of benchmarks to reach, giving you new ones along the way. If you aren't quite sure what things you should be doing to make your wiki a fun place, the Progress module can help!
Don't worry: the Admin Dashboard can't make you finish the tasks. They're just suggestions. And if you want to skip over a task, you can totally do that.
Of course, some wikis were created before this feature came along, and other wikis have already reached 100% completion of the tasks. So there are some wikis where this feature can't be found.
See also
مساعدة أكثر واستجابة
Community content is available under
CC-BY-SA
unless otherwise noted.